Pedestrian Accident Attorneys in Philadelphia, Pennsylvania
Don't Ignore The Injustice You've Suffered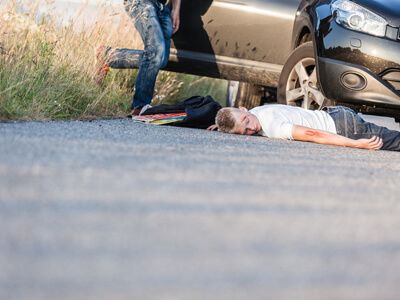 We Handle Pedestrian Hit-And-Run Cases in Philadelphia, PA
You were an innocent bystander when the unexpected happened to you. While you may not know what to do after an accident, you know who does: Marc E. Batt & Associates. We take cases involving pedestrian hit-and-runs in Philadelphia, Pennsylvania.
Injuries sustained in a pedestrian accident are more severe since you don't have a vehicle protecting you. You could be facing high medical bills and missed work. We'll tell you everything you need to know so you can file your claim correctly.
Call 215-618-9927 now to schedule a consultation with an experienced injury attorney in Philadelphia, Pennsylvania.
When to Contact Marc E. Batt & Associates
Get in contact with us immediately if:
You were hit by a car while crossing the street

A car backed into you while you were walking

A car ran off the road and hit you
Your biggest challenge will be getting the guilty party's insurance provider to pay for damages. We'll fight on your behalf so you can get the restitution you deserve.
Trust us to help you get compensation for loss of income, pain and suffering or loss of quality of life. Get in touch with a reputable injury attorney in Philadelphia, Pennsylvania today to start filing your claim.
Looking for a Compassionate & Qualified Philadelphia Pedestrian Accident Attorney?
Philadelphia is indeed known as the "City of Brotherly Love", but there's nothing loving about being injured and becoming the victim of a senseless pedestrian accident.
So, whether you or a loved one were hit and wounded by a motorist, while attempting to travel on a crosswalk, or tripped and fell on uneven or compromised pavement, you need a compassionate and qualified attorney team to handle your pedestrian accident case.
The law firm of Marc E. Batt & Associates stands ready to assist as the pedestrian accident attorney team you need and deserve.
Philadelphia Pedestrian Traffic & You
In a report released by the Bicycle Coalition of Greater Philadelphia, data stated, "In Philadelphia in 2016, the Bicycle Coalition's tally found that nearly half of all traffic deaths were pedestrians—and pedestrians and bicyclists made up more than half of road deaths (47 percent for pedestrians; 53 percent for pedestrians and bicyclists)." The coalition's report further added, "The most vulnerable populations are being killed at rising rates nationally, but it's worse in Philadelphia, where the city's Vision Zero program is still in the works."
Given the seriousness of such statistics and findings, having an attorney team with honesty, integrity, and professionalism for your pedestrian accident is paramount; the law firm of Marc E. Batt & Associates is the attorney team you need for sound legal representation.
Your Philadelphia Attorney After You've Been Hit By a Car
Whether you were enjoying a power walk here in Philadelphia and were hit by a car, or perhaps you were taking leisurely stroll down a Philadelphia-area street and were hit by a distracted motorist, you deserve an attorney who will hear your pedestrian accident claims.
Attorney Marc E. Batt is an esteemed attorney here in Philadelphia. As a member of the Pennsylvania Association for Justice, the Philadelphia Trial Lawyers Association, and the Philadelphia Bar Association, Batt has built his legal practice upon the foundation of honesty, integrity, and professionalism.
As a victim of a pedestrian accident, your needs and well-being will become paramount to Attorney Batt and the legal professionals of the firm of Marc E. Batt & Associates. The pain and suffering you've endured after being hit by a car is unimaginable and will soon come to an end with the legal expertise of Attorney Batt and Marc E. Batt & Associates.
Your Philadelphia Attorney in the Aftermath of Being Hit in a Crosswalk
Your walk across that Philadelphia crosswalk resulted in a visit to a local emergency room, for treatment due to the injuries you sustained after a distracted driver ignored a red light. Not only are you dealing with physical pain and suffering, but you could be enduring mounting medical bills, endless streams of prescribed medications, physical therapy, and more setbacks.
You're ready for justice for your pain and suffering, and so is the attorney team at The Law Firm of Marc E. Batt & Associates. Let Attorney Batt, and his legal specialists not only fight for your justice but be the voice you need, helping you obtain the compensation you deserve.
Contact Your Philadelphia Pedestrian Accident Attorneys Now
Marc E. Batt & Associates collectively have over 100 years of legal experience and are ready to put that experience to work for you in the aftermath of your pedestrian case. So, protect your future, finances, and well-being and contact Attorney Batt & Philadelphia's Marc E. Batt & Associates today and get the money you deserve!