Trucking Accident Attorneys in Philadelphia, Pennsylvania
Seeking a Competent and Dedicated Philadelphia Truck Accident Lawyer?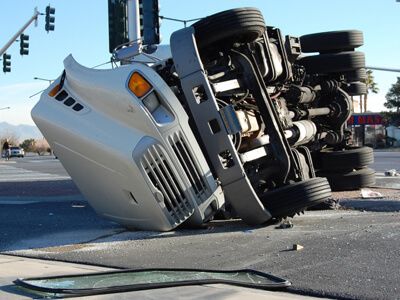 You've been injured in a trucking accident here in Philadelphia and you're now possibly enduring immeasurable pain, tremendous suffering, and a long road to recovery. After a truck accident, time is of the essence when it comes to obtaining a sound, competent, and dedicated attorney to help you with your truck accident claims. You need Philadelphia's most experienced truck accident attorney team, the law firm of Marc E. Batt & Associates.
Marc E. Batt & Associates will work relentlessly to help clients obtain the compensation they deserve from a truck accident, an 18-wheeler accident, or even a tractor-trailer accident.
Your Truck Accident & You
Data from the Insurance Institute for Highway Safety Highway Loss Data Institute states, "Most deaths in large truck crashes are passenger vehicle occupants. The main problem is the vulnerability of people traveling in smaller vehicles. Trucks often weigh 20-30 times as much as passenger cars and are taller with greater ground clearance, which can result in smaller vehicles under riding trucks in crashes." The IIHSHLDI further adds, "Truck braking capability can be a factor in truck crashes. Loaded tractor-trailers take 20-40 percent farther than cars to stop, and the discrepancy is greater on wet and slippery roads or with poorly maintained brakes."
They further add that truck driver fatigue is a major contributing factor in truck accidents. "Drivers of large trucks are allowed by federal hours-of-service regulations to drive up to 11 hours at a stretch. Surveys indicate that many drivers violate the regulations and work longer than permitted," the IIHSHLDI states. Additional factors such as speed, distracted driving, uneven or compromised pavement can all cause a truck accident.
Because of that negligent truck driver who was not paying attention to the road and involved you in a truck accident, chances are you're not only in insurmountable pain, but you could be facing a job loss, loss of income, mounting medical bills, weeks of physical therapy and more setbacks. The attorneys at Marc E. Batt & Associates understand the ramifications of your trucking accident and will begin their fight for you once you place your initial phone call to them.
Philadelphia's Most Trusted 18-Wheeler & Tractor-Trailer Accident Attorney Team
Attorney Marc E. Batt has over four decades of personal injury law experience that expands to 18-wheeler and tractor-trailer truck accidents. Having begun his law practice to clients here in Philadelphia, Batts is also an esteemed member of the Pennsylvania Association for Justice, the Philadelphia Trial Lawyers Association and the Philadelphia Bar Association.
Attorney Batt and his team of legal experts will investigate all aspects of your 18-wheeler and tractor-trailer truck accident claims while compiling information to build a solid and enduring truck accident case for you.
Due to their size, weight, measurements, and limited maneuverability, 18-wheelers are more prone to serious accidents. If the injuries you sustained are from an accident involving an 18-wheeler truck, then you may be able to obtain financial compensation. Trust your 18-wheeler, tractor-trailer accident to the capable hands of the attorney team of Marc E. Batt & Associates.
Contact Philadelphia's Experienced Truck Accident Attorney Today
During recovery from your trucking accident, the very last thing you want or need to do is worry about finding experienced, caring, and compassionate legal representation. At the law firm of Marc E. Batt & Associates, you'll find all three traits, as well as more.
Attorney Batt and his legal associates have a combined 100 years of legal experience as well as a solid knowledge of Pennsylvania's truck accident laws as they pertain to you and your case.
Work Hand-in-Hand with a Trucking Accident Attorney Who Puts You First in Philadelphia, PA
Are you suffering from injuries as a result of a trucking accident? Was that accident due to the negligence of another driver? If so, you've gone through enough suffering and pain as a result of your auto accident. The last thing that you want to worry about is finding a qualified personal injury attorney to represent your case. If you are looking for an experienced personal injury attorney to fight for your rights then contact Marc E. Batt & Associates of Philadelphia today for an initial consultation!
Common Causes of Trucking Accidents
Over the years the trucking industry has passed rules and regulations to help decrease the number of trucking accidents. However, fatal car crashes on interstates across the United States including here in Philadelphia are still common. There are numerous factors that contribute to accidents, but the most common causes of trucking accidents include:
Driving above the speed limit

Distracted driving

Driver fatigue
If you've been injured on a highway or roadway in Philadelphia or the surrounding areas then contact our experienced personal injury attorney today!